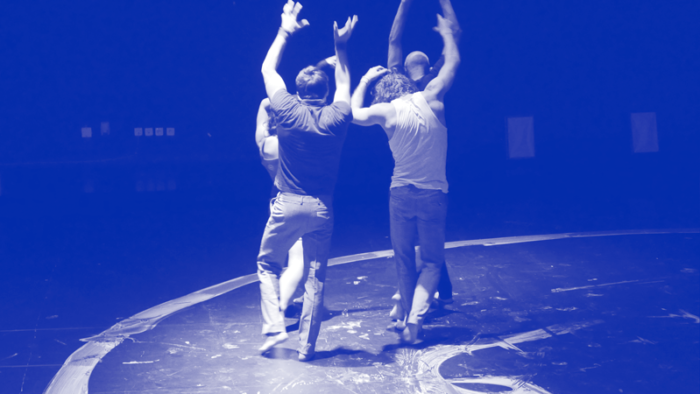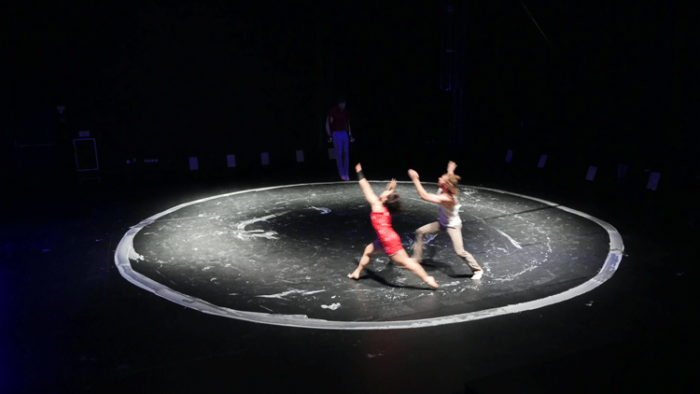 ANIMAL SKETCHING
Cie Samuel Mathieu
Young audience - Dance & areal straps
Propos
"Sculpture suggests movement, painting suggests depth or light. Calder suggests nothing; he takes real living movements and shapes them."
Situations III (1949) by Jean-Paul Sartre
Aimed at young audiences, it is a third part with the aerial straps that I wish to discuss, in reference to the sculpter Alexander Calder. Indeed, the ingenuity of his wire sculptures and his poetic approach to the circus offer an understanding of the idea of movement and representation which appear to be essential to our choreographic and circus disciplines.
First of all Calder allows this simplicity; like a child would, he promotes this sense of commitment to the game. He has intense involvement in the show. He invites collusion. Moreover, the accent on play is omnipresent in Calder's work and appears to me as an angle likely to move and captivate the youngest. Finally, Calder makes this sublime link between the sensitive and the imaginary. He gives the viewer permission for a dramaturgical, mental and sensory construction while being reflexive and spontaneous.
Composed of animal sketches, the Animal Sketching bestiary is the background, the material, the source of inspiration that is common to our respective worlds of dance, circus and visual arts. This universal work base, nutured by observations and experiments throughout our artistic careers, feeds our imagination, sharpens our sensitivity and reveals a biomechanical and sensory approach to the animal.
Interactively sharing this experience of the body in space with the child allows, in a subtle way, a topsy turvy narrative. This material enables us to achieve an understanding of Calder's work and to gauge the extent of his sculptural propositions. Mobile and stable, the bodies exist in a circular space free from all gravity. As flesh and blood beings, they will cross the circle and inscribe in this to and fro, the desire of man to take flight for good.
As with the film "Le Grand Cirque de Calder" directed by Jean Painlevé in 1955, the intention is to bring to light the whole device and to associate it with the dramaturgy of the piece. Everything must be visible.
A circular space where colors and materials come together.
A treatment process which enables the audience seated in at 360° to have various and constantly changing viewing angles.
To be able just as much to observe the poetry of bodies in movement as the mechanical silverwork, lines, drawings and colors which go to structure a playspace.
A simple light, defined by three distinct ambiant settings, without preconceived bias or luminous indicators. On the contrary, the idea is to leave the field free to the spectators' eyes and let them imagine their own dramaturgy.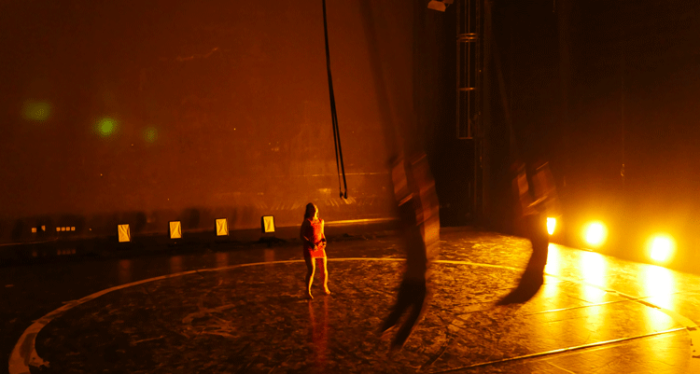 Casting
Conception et Choreography : Samuel Mathieu
Assistant : Fabienne Donnio
Dancers and Areal Straps : Jonas Leclere, Louna Delbouys Roy, Dimitri Rizzello, Samuel Mathieu
Sound & light designer : Samuel Mathieu
Technical staff : Steeve Dechelotte
Pictures : Angelica Ardiot
Duration : 40 minutes
Young audience
Coproducers
Accueil en résidence CIRCa – Pôle national Cirque – Auch
Accueil en résidence et coproduction - Ballet du Nord CCn de Roubaix
Accueil en résidence et coproduction - Théâtre des 2 Points -Rodez
Accueil en résidence et coproduction - La Grainerie Balma
Mission départementale de l'Aveyron
Calendar
2023
Bayssan
France
Scènes de Bayssan
Bayssan
France
Scènes de Bayssan
Toulouse
France
CC Alban Minville (en cours)
Toulouse
France
CC Alban Minville (en cours)
Foix
France
L'Estive Scène nationale
Foix
France
L'Estive Scène nationale
Amiens
France
Cirque Jules Vernes
Amiens
France
Cirque Jules Vernes
Amiens
France
Cirque Jules Vernes
Elbeuf
France
Théâtre Cirque
Elbeuf
France
Théâtre Cirque
Elbeuf
France
Théâtre Cirque
2022
Orléans
France
Le Bouillon
Balma
France
La Grainerie
Balma
France
La Grainerie
Tournefeuille
France
L'Escale (Report)
Tournefeuille
France
L'Escale (Report)
Tournefeuille
France
L'Escale (Report)
2021
Auch
France
CIRCA - Festival Pirouette Circaouette (ANNULÉ)
Auch
France
CIRCA - Festival Pirouette Circaouette (ANNULÉ)
Auch
France
CIRCA - Festival Pirouette Circaouette (ANNULÉ)
Tournefeuille
France
L'Escale (PRO)
Tournefeuille
France
L'Escale (ANNULÉ)
Tournefeuille
France
L'Escale (ANNULÉ)
2020
Balma
France
La Grainerie
Balma
France
La Grainerie
Balma
France
La Grainerie
Cugnaux
France
Gymnase Jazy (ANNULÉ)
Cugnaux
France
Gymnase Jazy (ANNULÉ)