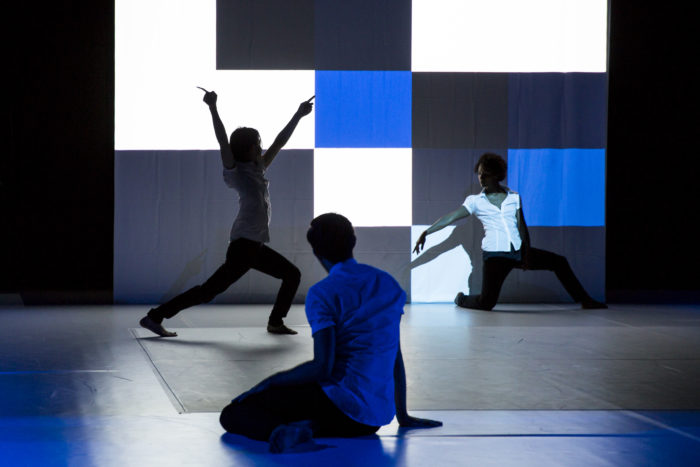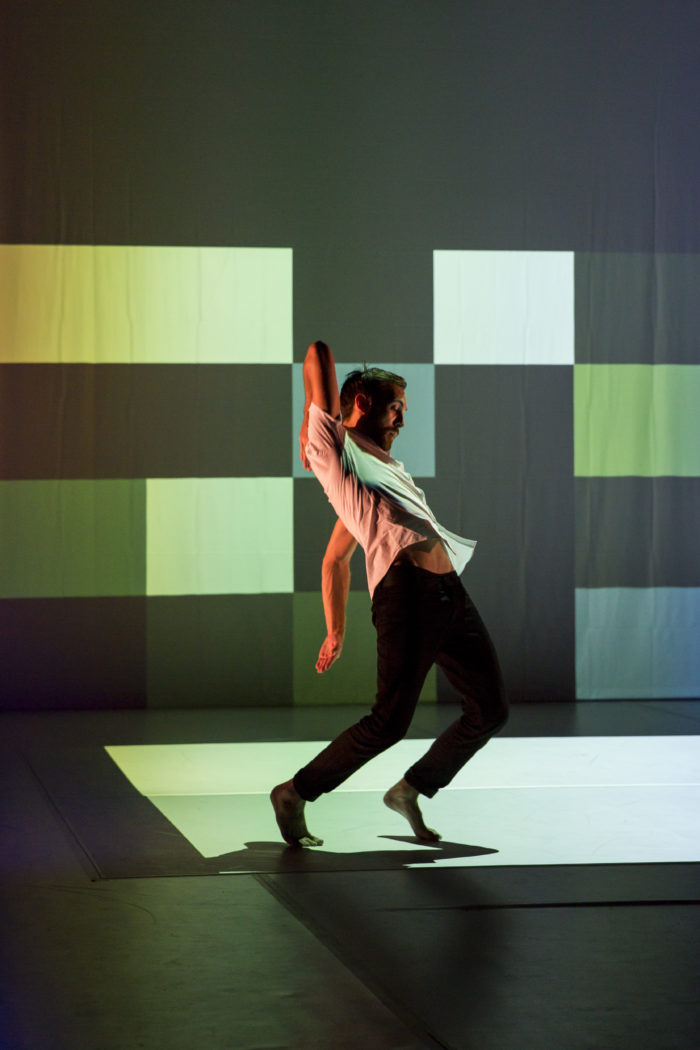 LA DYNAMIQUE DES EMOTIONS
Cie Samuel Mathieu
Trio - Piece for Young Audience
Propos
Rendering the story we tell ourselves when we watch, and finding ourselves in it.
What I do tells me what I am looking for. P.Soulages
Without any solemnity, without specifying the genre, I am suggesting a form of dancing that is visible and viewable by all, but particularly aimed at children. A workshop on perspective, a journey through the works by Pierre Soulages and Yves Klein. The exploration of emotions, stirred up by colour, sharpened by the traces and the directions, the rhythm and speed of which make up the whole of the work.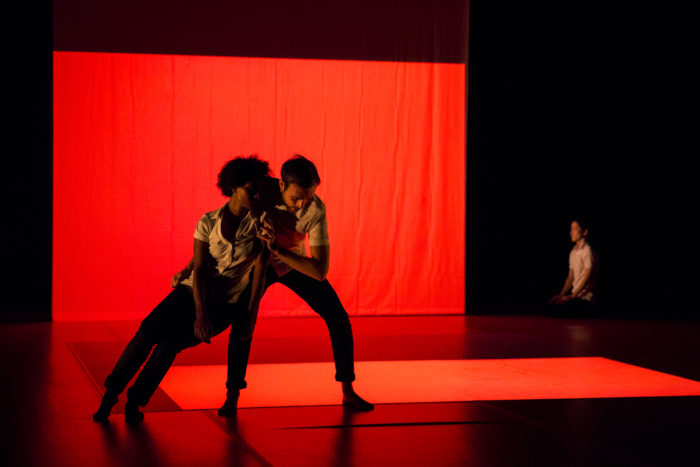 REPETITION
I chose two artists with similar approaches as mine, who are close to my unwavering interests. From the blue period to Klein's anthropometries, from outrenoir to Soulages' lithographies, these two artists nurture that unity and necessity. "A sort of obsession that steers action", wrote Virginia Dwan, Yves Klein's gallerist, in The Monochrome Adventure (Ed. Découvertes Gallimard), and which, I think, corresponds to what arouses desire.
PERFORMANCE
The directions, the traces, the colour, the rhythm and the speed. Quick and methodical, the eye watches, learns and understands. No apparent stories, no tales, no narration, but a tight thread that keeps on tenterhooks, that collects information, that allows for absurd as much as realism. That tight thread plunges the person who watches in the depths of childhood, nursed by its most unusual associations and juxtapositions.
An amusing, moving and charming role-play ; the piece has a simple and authentic approach.
An expedition, an exploration with three young dancers.
One does not depict infinity, one produces it. Yves Klein
Regardless of age, regardless of social environment or family background, it does not matter.
Playing with shapes and colours, having fun, being enthusiastic about or moved by what one sees, coming and going playfully from Soulages to Klein, and noting the differences, feeling as much as understanding. Comprehending, immersing oneself.
Casting
Conception and Choreography : Samuel Mathieu
Dancers : Maxime Guillon Roi Sans Sac, Yuta Ishikawa, Anaïs Replumaz
Light designer : Myriam Bertol
Video designer : Maxime Denuc
Duration : 45'
Pictures : Pierre Ricci
Coproducers
CDC Toulouse Midi-Pyrénées
Cie Samuel Mathieu
Musée Pierre Soulages - Rodez
MJC Rodez
Calendar
2014
Biarritz
France
Festival Le Temps d'Aimer
Cugnaux
France
Théâtre Paul Eluard
Cugnaux
France
Théâtre Paul Eluard
Ramonville
France
Centre Culturel (x2)
Ramonville
France
Centre Culturel (x2)
Rodez
France
MJC Rodez (x2)
Rodez
France
MJC Rodez (x2)
Muret
France
Théâtre de Muret (x2)
2013
Auterive
France
Salle Allégora - NeufNeuf Festival (x2)
Auterive
France
Salle Allégora - NeufNeuf Festival (x2)