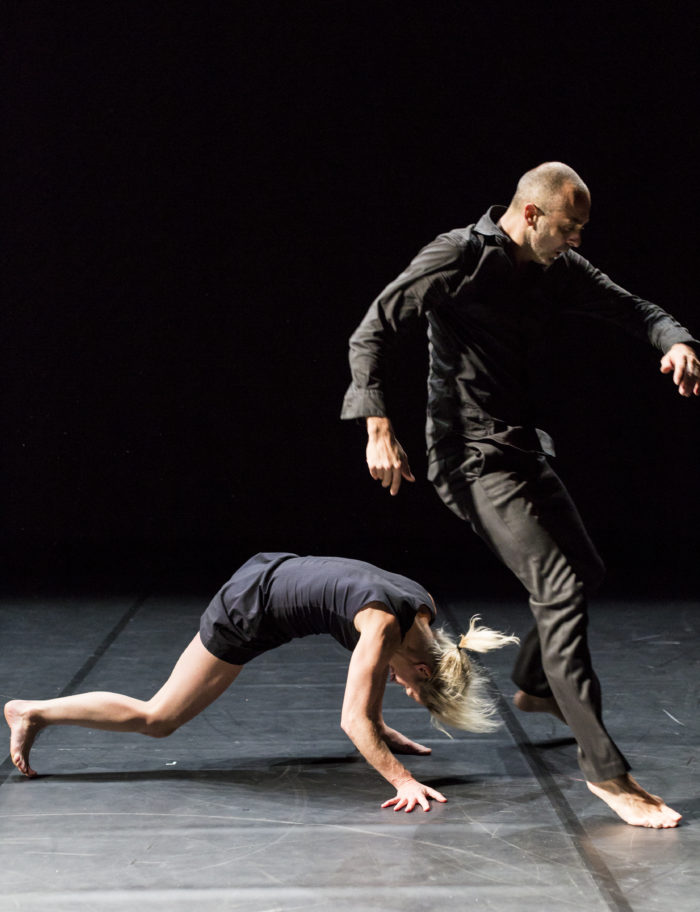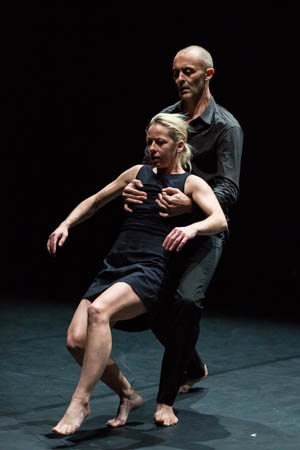 LE DÉCLIN
Cie Samuel Mathieu
PERFORMANCE#2
Propos
A duo brought to the climax of matter and intimacy. A physical performance constantly yearning for the tension and the demands of a relationship which is still unfolding. With gradual insistence, the performers' role is to impose themselves on each other as distinctive characters.
They face each other, rise and tower like two arrows. The friction of the air and the tenuous emotion between the two bodies outline two axes. Though aching for verticality, they will be pushed towards the fall, subjected to decline and collapse.
The piece claims to be written simply, as a sketch, an architecture of lifts. The game and the jousting have only one aim: to give a glimpse of the emotion bodies can show, the strength of an intimate and universal feeling. The duo combines the violence and tenderness in a romantic relationship, the tension and the fusion of a relationship which is still unfolding.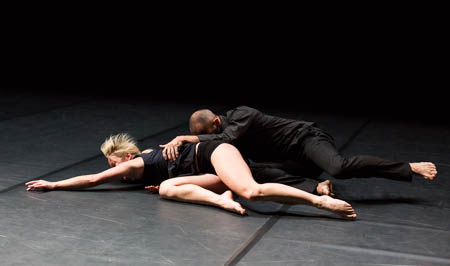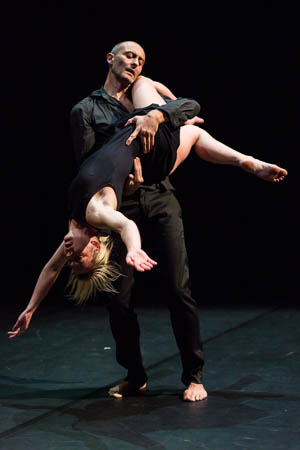 Casting
Choreographer : Samuel Mathieu and Fabienne Donnio
Dancers : Fabienne Donnio and Samuel Mathieu
Sound designer : Samuel Mathieu
Light designer : Myriam Bertol
Pictures : Pierre Ricci
Duration : 25 minutes
Coproducers
Eurorégion Pyrénées-Méditerranée,
Institut Français and the city ofToulouse
Plateforme Convivencia Pyrénées Méditerranée
Conseil Général de la Haute-Garonne.
Calendar
2020
Lyon
France
Le Bac à Sable
Lyon
France
Le Bac à Sable
Lyon
France
La Maison de la Danse
2019
Brest
France
Festival La Becquée
2018
Labastide Rouairoux
France
Musée du textile - ADDA du Tarn
Labastide Rouairoux
France
Musée du textile - ADDA du Tarn (x2)
Gaillac
France
Musée des Beaux Arts de Gaillac
Gaillac
France
Musée des Beaux Arts de Gaillac (x2)
Gaillac
France
Musée des Beaux Arts de Gaillac
2017
Peyssies
France
NeufNeuf Festival - Magasin Détail
2015
Cugnaux
France
NeufNeuf Festival Salle Albert Camus
Tipperary
Irlande
Tipperary Dance Platform
2014
Laval
France
Le Chaînon Manquant
Bilbao
Spain
La Fundicion
Bilbao
Spain
La Fundicion
Nantes
France
CCN de Nantes
2012
Toulouse
France
Festival Danse et Continent Noir - La Fabrique
Montauban
France
Festival danse en Place - Théâtre O.Degouge